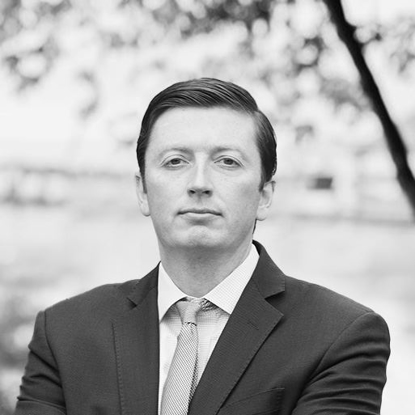 Patrick T. O'Brien
Partner
Bio
Patrick T. O'Brien is a skilled advocate whose compassion for his clients is as important to him as his skills to provide great outcomes in his cases.  Attorney O'Brien is a Partner with Dischley Law, PLLC.  He is a former prosecutor with over a decade of experience handling high-profile cases and major crimes.  
Attorney O'Brien is known in Northern Virginia as a skilled and tenacious litigator who obtains unprecedented results for his clients. He prides himself on taking a holistic approach with all his clients and believes strongly that such an approach leads to better results in court. Attorney O'Brien's knowledge, experience, and passion provide him with the ability to see any client through even the most difficult situation to achieve a positive outcome.
The Experience Required to Get the Best Results
Attorney O'Brien's legal insight and experience sets him apart from other attorneys. In his career, Attorney O'Brien has taken hundreds of cases to trial, including dozens of jury trials, on charges ranging from DUI, Reckless Driving, and possession of controlled substances up to murder, rape, and large-scale drug distribution. In his career, Attorney O'Brien has provided training to other attorneys, prosecutors, and law enforcement professionals on topics including Driving Under the Influence, Constitutional Law, trial practice, and other areas. 
Wide-Ranging Skill Set
Attorney O'Brien's clients benefit from his experience representing the Commonwealth in both Northern and Southern Virginia. Attorney O'Brien's career began serving the citizens of Lynchburg, Virginia. During his time in Lynchburg, Attorney O'Brien prosecuted charges ranging from criminal misdemeanors, traffic offenses and serious felonies. Before leaving Lynchburg, Attorney O'Brien's was handling major felonies to include narcotics distribution, robbery, embezzlement and homicide.
After five years in Lynchburg,Attorney O'Brien accepted a Senior Assistant Commonwealth's Attorney position in the City of Alexandria. Attorney O'Brien's caseload focused on major felony offenses, primarily focused on the prosecution of narcotics distribution offenses. Beyond drug trafficking, he continued to work robbery, firearm and, homicide crimes hand in hand with the city's Police Department.
After over nine years spent prosecuting in Southern and Northern Virginia, Attorney O'Brien brings a well-rounded understanding of prosecutorial goals and tactics. This knowledge provides his clients an advocate who can quickly diagnose the strengths and weaknesses of the Government's case. With this information, Attorney O'Brien then determines the client's best course of action.
A Leader in Cutting Edge Trial Techniques
Attorney O'Brien's skills as a litigator were highly respected by his peers in the legal field.  Attorney O'Brien served a lecturer for prosecutors, law enforcement, criminal defense attorneys, and judges. His main focus related to the presentation of visual evidence at trial.  Attorney O'Brien developed multi-day trainings related to the use of cutting-edge technology in the courtroom and best practices to communicate visual evidence to juries. Attorney O'Brien also provided insight into evidence obtained from cellular technology and social media. Attorney O'Brien has been asked to lecture at events hosted the Virginia State Bar, the Criminal Section of the Virginia State Bar, The Office of the Attorney General, The University of Virginia School of Law, Washington and Lee School of Law, and the Commonwealth's Attorneys' Services Council.