ARLINGTON CRIMINAL DEFENSE LAWYER
OFFERING UNCOMPROMISING REPRESENTATION FOR DWI | DUI RECKLESS DRIVING, & Criminal charges IN ARLINGTON, VIrginia.
Arlington Virginia Courts can be unrelenting and punish criminal behavior severely. If you have been charged with a criminal offense, especially DWI | DUI or Reckless Driving, in Arlington, Virginia, the attorneys at Dischley Law, PLLC are here to help. Attorney Patrick O'Brien and Attorney David Dischley are both former prosecutors who have handled every type of criminal cases in their nearly 30 years of combined experience and are well known in Arlington, Virginia for the case results they produce.
Before entering private practice, Attorney O'Brien taught prosecutors in Virginia how to prosecute DWI | DUI cases. Attorney Dischley has taught at law enforcement at numerous criminal justice academies throughout Northern Virginia. Both have taught the police and prosecutors the techniques used to arrest and prosecute you. The experience they bring to an Arlington County DWI | DUI and other criminal charges in Arlington is unmatched. With their experience, they carefully craft innovative defenses that produce the best results well beyond their client's expectations. An experienced Arlington Criminal Defense Attorney can make all the difference between a conviction and an acquittal.
In most instances, we know how the prosecution is going to approach a case before they act, which allows us to make the best tactical decisions in your case.
---
Facing DWI or reckless driving charges in Arlington? Call us at (703) 215-9337 or reach out to us online now. We can help. We offer free confidential initial consultations. Discuss your situation with experienced criminal defense attorneys with a history of success today.
CRIME AND PROSECUTION IN ARLINGTON:
Crime and prosecution of criminal cases in Arlington has undergone a variety of changes in recent years. From progressive prosecution to changes on the bench in Arlington, the County's criminal justice landscape has made significant needed adjustments. Arlington County has made a name for itself as one of the toughest jurisdictions in Northern Virginia. Located right outside D.C., Arlington Courts and Prosecutors are serious about punishing individuals that commit crimes in their neighborhoods. From simple reckless driving, DWI | DUI cases, to more serious crimes, Arlington Police are out there working to reduce crime in the community.
COMPREHENSIVE CRIMINAL DEFENSE SERVICES
Most people who face criminal charges in Arlington, Virginia are not hardened criminals. They are just ordinary people who made a mistake, or in some cases, people who have been falsely accused of a crime. One thing that everyone has in common, whether they have been charged with a violent crime, a drug offense, DWI | DUI, or a financial crime, is fear. In Arlington, people are scared of what will come of their case, their liberty, and livelihood.
When you are facing criminal offenses in Arlington of any kind, while you may think you understand how things will turn out, but nothing is guaranteed. Depending on what you are charged with, you could clear your name, walk away with a fine, face probation, or end up serving time in jail. When facing that kind of uncertainty, anyone would be afraid. That is why it is crucial that you find an experienced criminal defense lawyer who has an excellent track record and who you can trust. You do not have to face criminal charges alone, and you shouldn't. Having an attorney on your side who is focused on protecting you and fighting for your rights gives you your best opportunity to secure a favorable outcome for your case. Attorneys O'Brien and Attorney Dischley take an understanding, non-judgmental approach to defending you. We understand your fear, mistakes, and the goals you need to achieve to put this event behind you.
DWI
In Arlington, Virginia, DWI and driving under the influence (DUI) are considered the same. Both DWI and DUI are categorized as drunk driving. So, anyone who tells you that a DWI is somehow a lesser charge than a DUI is mistaken. If you are charged with DWI in Arlington, expect a tough fight. Virginia has some of the strictest DWI laws in the nation. However, recent law changes do allow DWI charges to be deferred and, in some cases, dismissed at the discretion of the prosecutor. As you can imagine, prosecutors rarely allow DWI cases to be deferred and/or dismissed but in Arlington, Virginia there is that possibility. Therefore, anyone charged with DWI should be prepared to face prosecution, because their best, and often only, chance to avoid a DWI conviction is to hire a criminal defense lawyer and fight the charges.
As mentioned earlier, the laws in Virginia regarding DWI are strict. Virginia's DWI penalties are severe and can impact people convicted of DWI for years to come. DWI penalties in Virginia can include the following:
Up to 12 months in jail
A fine of up to $2,500
Suspension of driver's license for up to a year
Ignition interlock device installed on vehicle.
Required to complete the Virginia Alcohol Safety Action Program (VASAP/ASAP)
A first or second DWI (a second DWI is a DWI that occurs within 5 or 10 years of the first DWI) is usually categorized as a class one misdemeanor. A third or fourth DWI which occurs within 10 years of the first DWI is considered a felony and comes with much harsher penalties than a misdemeanor.
In Arlington, a standard disposition for a DWI without an elevated BAC is 180 days in jail with 180 days suspended and a fine of $1500 with $1200 suspended. The suspended jail and portion of the fine are conditioned on your enrollment in and successful completion of the Virginia Alcohol Safety Action Program (VASAP). Additionally, your license will be restricted for one year (usually the only condition is installation of ignition interlock).
Some in Arlington, VA may qualify for the prosecutor's deferred prosecution program. In this scenario, the prosecutor will ask you to plead guilty to DWI, waive appeal, and waive your right to expungement. They will defer the case for two years conditioned on you paying court costs, completing VASAP, having ignition interlock installed on your vehicle for 24 months, being of your uniform good behavior, and complete some amount of community service. If successful, the charge is reduced to Reckless Driving; thus, avoiding a conviction for DWI.
RECKLESS DRIVING
There are generally two reasons that someone is charged with reckless driving in Arlington. The first is if a driver is displaying dangerous behavior while behind the wheel. Examples of dangerous driving behavior include:
Excessive Speeds
Changing lanes without signaling
Weaving in and out of traffic
The second reason a driver could be charged with reckless driving is if they are involved in a motor vehicle accident. Whether it is a major accident or a minor one, almost any motor vehicle crash can result in a reckless driving charge.
Whatever the reasoning, if a driver is charged with reckless driving, it is serious.
Penalties for reckless driving in Virginia include:
A fine of as much as $2,500
Up to 12 months in prison
Up to a 6-month license suspension
In addition, a reckless driving conviction will remain on your driving record for 11 years and carries 6 points with DMV. Most important, it remains a criminal conviction for the rest of your life.
EXPERIENCED DWI & RECKLESS DRIVING ATTORNEY IN ARLINGTON, VA
You should never try to handle serious traffic offenses, such as DWI and reckless driving, on your own. Depending on the circumstances that led to the charges, you could be looking at severe fines and serious prison time. Your life and your future are on the line. With stakes that high, you can't risk facing these kinds of charges without the backing of a proven and experienced criminal defense attorney. The right lawyer can protect you and design a defense strategy that can help you secure the best possible outcome to your situation.
The criminal defense lawyers at Dischley Law, PLLC have over 30 combined years of legal experience successfully helping clients facing criminal charges. We understand what is at stake for our clients and we have the compassion, knowledge, and ability to help them successfully navigate through and get past one of the worst times in their life.
All our attorneys are former prosecutors, so they know how the other side thinks. That gives them a serious advantage and makes them the best allies that people facing criminal charges could have. Our legal team are experts at examining cases, building criminal defense strategies, and anticipating every move and tactic that the prosecution plans to use at each step of the case. That means our clients don't have to worry about risk and surprises, because our skills and experience ensure we understand what the prosecution is thinking.
To learn more about Dischley Law, PLLC and how we have been helping people just like you for years, check out our case results and client reviews.
---
If you have been charged with reckless driving or a DWI, you should speak with our Arlington, VA criminal defense lawyers right away. Contact us online or give us a call at (703) 215-9337 to set up a confidential consultation. Initial consultations are free. Call now!
RESPONSIVE. ASSERTIVE. ACCOMPLISHED.
MORE REASONS TO CHOOSE OUR FIRM:
We've Served Our Country & Community Through Military Service & As Former Prosecutors

We Have Over 30 Years of Combined Legal Experience

We Are Boutique Firm With Large Firm Experience & Reputation

We Use Knowledge, Strategy & Innovation to Produce Results

Our Firm Is Top-Rated & Award-Winning

Your Initial Consultation Is Free & Confidential
"I chose Dischley Law in part because they are a Veteran-owned firm, but also because of their competitive fees and the compassion they demonstrated as I described my case during the consultation"

- C.G.

"After receiving a Reckless Driving summons in Fairfax, VA, I contacted a number of lawyers. I found my conversation with Dischley Law to be the most helpful and comforting."

- R.M.

"You will not find a more caring and proactive attorney in your search for effective representation. David gets right to the heart of the case, finds the defenses, and presents them at the right time."

- J.M.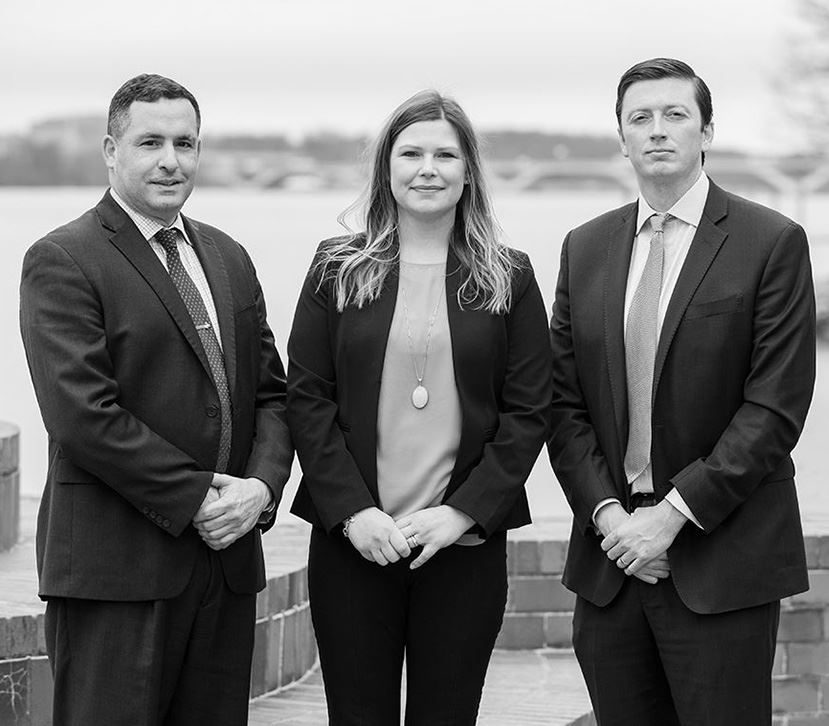 Contact us for a
Free consultation
Call (703) 215-9337 or Submit This Form