Fairfax Criminal Defense Lawyer
Tenacious Advocates | Former Prosecutors
At Dischley Law, PLLC we know that facing criminal charges in Fairfax County can be daunting. As former prosecutors, we approach every case with the best defense in mind with the perspective of the prosecutor. Our attorneys have served as prosecutors in four different jurisdictions and have prosecuted the same cases they defend now. Patrick O'Brien and David J. Dischley are successful criminal defense lawyers because of the skills they acquired prosecuting cases. Our entire team takes a client first approach to your defense and arms you with the knowledge and advice to successful tackle any criminal charge.
Dischley Law, PLLC is well-known and respected in Fairfax Courts. Dischley Law, PLLC is dedicated to providing high-caliber legal counsel backed by extensive experience in Fairfax criminal cases. Our team understands what is at stake in your case and works tirelessly to investigate your circumstances and find a solution. We do not offer copy-and-paste legal strategies. Dischley Law, PLLC provides clients with creative strategies based on our experience as defenders and former prosecutors. When you entrust your criminal case to us, you can rest assured that it is in good hands.
---
Call our Fairfax County criminal defense lawyers at (703) 215-9337.
---
WINNING DUI | DWI CASES IN FAIRFAX
As every former prosecutor knows, the most serious cases handled in the Traffic Division of the Fairfax General District Court are DWI or DUI cases. Whether a blood DWI | DUI or breath DWI | DUI, Attorneys Patrick O'Brien and David J. Dischley know how to effectively challenge all aspects of the government's case against you. We are experienced in giving you thoughtful advice to help you mitigate and win these serious DWI | DUI Cases.
If you have been charged with a DWI or DUI in Fairfax, there is a lot that can be done to mitigate the offense. For a first offense in Virginia, with a BAC under a .15, jail is not likely. Fairfax prosecutors will almost always offer you what is known as a standard first offense disposition. This is a 30 day suspended jail sentence and a $500 fine with $250 suspended. The suspended jail time and portion of the fine will be conditioned on your enrollment in and successful completion of Fairfax Virginia Alcohol Safety Action Program (VASAP). Additionally, your license must be suspended for 1 year but a restricted license is frequently granted and permits you to drive anywhere as long as you have a certified and functioning ignition interlock system.
For offenses with a BAC greater than a .15 or .20, or subsequent DWI offenses, dispositions can vary. However, mitigation can play a key role in keeping you out of jail or minimizing the impact. Remember, no DWI case is without legal issues and the attorneys at Dischley Law, PLLC will strive to put you in the position where we have an array of choices on how to proceed with your case. If you have been charged with a DWI or DUI in Fairfax, call us today. We are skilled at handling first offenses, second offenses, and third or subsequent offenses.
FAIRFAX FELONY CRIMINAL DEFENSE
In Virginia, a person charged with a Felony on a warrant, has a statutory right to a preliminary hearing. In Fairfax, that means your case will originate in the Fairfax General District Court or the Fairfax Juvenile and Domestic Relations Court. Felonies are very serious offenses and are classified as follows:
Class 1: The most serious felony charges are punishable by life imprisonment and fines of up to $100,000.
Class 2: These crimes are punishable by fines of up to $100,000 and a prison sentence of 20 years to life.
Class 3: Felonies in this class also carry a maximum fine of $100,000 and potential imprisonment for five to 20 years.
Class 4: Class 4 felonies carry a possibility of fines and up to two to ten years imprisonment in a state facility.
Class 5: These are some of the most common felonies and if convicted, the punishment is up to 10 years in the penitentiary, or alternatively, up to 12 months in jail and a fine up to $2,500.
Class 6: A conviction could result in one to five years in prison or, in the Court's discretion, no more than 12 months in jail.
Class U: These are unclassified felonies that carry their own punishments. For example, Larceny in Virginia is punishable by one year in prison up to 20 years. Unclassified felonies carry its own punishment range which do not fit neatly into any of the above classifications.
In Fairfax, you will have an arraignment in the Fairfax General District Court that will be held at 10:30 a.m. within a week or two of your arrest. On that date, you will be given a date for your preliminary hearing which will be held at 2 p.m. If the case is in Fairfax Juvenile and Domestic Relations Court, arraignments are held at 3:00 p.m. and trials are scheduled by the judge at various times. Preliminary hearings are just a probable cause hearing to see if the case will be certified to the Grand Jury. However, many cases can be negotiated and disposed of at the preliminary hearing, negating the need for the case to proceed to the Fairfax Circuit Court. However, if the case is serious or unable to be resolved, the case will proceed to Circuit Court for further hearings and eventually a plea or trial.
FAIRFAX MISDEMEANOR CRIMINAL DEFENSE
Unlike a Felony, Misdemeanors are tried in the Fairfax General District Court or the Fairfax Juvenile and Domestic Relations Court (JDR Court). Often, an arraignment will be held at 9:00 am or 9:30 am shortly after your arrest or 3 p.m. if the case is in JDR Court. The case will then be set for trial at 9:30 a.m. (Reckless Driving cases are set directly for trial) in General District Court or in JDR Court, according to the Court's schedule. Misdemeanors, while less serious than felonies, still carry drastic consequences and are classified as:
Class 1: The most serious misdemeanor charges can result in up to 12 months in jail and a fine of $2,500.
Class 2: If convicted, a person could face up to six months in jail and fines of no more than $1,000.
Class 3: These misdemeanors are punishable by a fine of up to $500 and no jail time.
Class 4: The least serious misdemeanor charges may be punishable by a fine of up to $250 with no jail time.
Successfully defending a misdemeanor case, takes knowledge of the system and knowing what prosecutors, the police, and victims might consider adequate mitigation. Also, each misdemeanor has its own legal issues that often can result in a positive result through negotiation or trial.
FAIRFAX RECKLESS DRIVING CASES
Many people often wonder if they need a lawyer for a Reckless Driving case in Fairfax. The simple answer is yes! The attorneys at Dischley Law, PLLC have witnessed many people convicted of reckless driving in Fairfax that could have avoided a conviction by hiring a lawyer. Sometimes, it is possible to have your reckless driving case dismissed by challenging the actions of the Police Officer. Often, negotiations with the prosecutor can result in the case being reduced to a simple traffic infraction or non-moving offense.
The penalty for Reckless Driving is up to 12 months in jail and a fine up to $2,500.00. Additionally, the Court in Fairfax can suspend your license for up to 6 months. Reckless Driving is a class one misdemeanor. Mitigation can be key to avoiding jail or getting the offense reduced. Also, the quality of a person's driving record plays a major factor in these types of cases.
Have You Been Accused of a Crime?
If you have been accused of a crime, you could be facing severe consequences with the Court but also ancillary consequences with your employment, security clearance, and immigration. Dischley Law, PLLC believes that those accused of a crime deserve legal counsel with their best interests in mind.
Our firm handles a variety of criminal law cases including:
Drug offenses
Gun charges
Violent crimes
Fraud
Reckless driving
Property and theft
Misdemeanors
Felonies
DUI/DUI
Expungement
And more
Our team of experienced and compassionate legal advocates works with clients to investigate their cases and determine the most optimal strategy. As a boutique firm, we tailor our services to fit the needs of our community while maintaining a personalized approach to each case. Our award-winning firm has a reputation for excellence, and we use our knowledge, strategy, and innovation to produce favorable results.
Schedule your free initial consultation with our Fairfax County criminal defense attorneys and entrust your case to a legal team that cares.
RESPONSIVE. ASSERTIVE. ACCOMPLISHED.
MORE REASONS TO CHOOSE OUR FIRM:
We've Served Our Country & Community Through Military Service & As Former Prosecutors

We Have Over 30 Years of Combined Legal Experience

We Are Boutique Firm With Large Firm Experience & Reputation

We Use Knowledge, Strategy & Innovation to Produce Results

Our Firm Is Top-Rated & Award-Winning

Your Initial Consultation Is Free & Confidential
"I chose Dischley Law in part because they are a Veteran-owned firm, but also because of their competitive fees and the compassion they demonstrated as I described my case during the consultation"

- C.G.

"After receiving a Reckless Driving summons in Fairfax, VA, I contacted a number of lawyers. I found my conversation with Dischley Law to be the most helpful and comforting."

- R.M.

"You will not find a more caring and proactive attorney in your search for effective representation. David gets right to the heart of the case, finds the defenses, and presents them at the right time."

- J.M.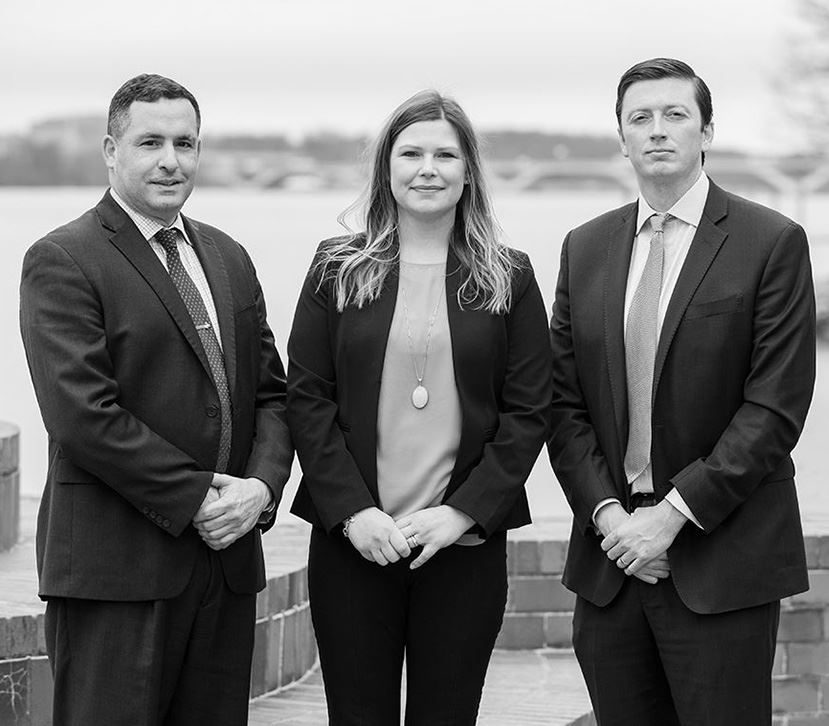 Contact us for a
Free consultation
Call (703) 215-9337 or Submit This Form